What you need to know
OnePlus just announced the suite of features we can expect with OxygenOS 14.
The update is filled with buzzwords, but what we can glean is that the update will use something called the "Trinity Engine" for enhanced performance and extended lifespans. 
While the stable release is unclear, OnePlus published a beta release timeline.  
The Trinity Engine sounds like it came right out of The Matrix films, but it's not. Believe it or not, it's part of a recent OS update. While we're still waiting on Google's introduction of Android 14, OnePlus decided to debut OxygenOS 14 — with the "Trinity Engine" at its core.
OnePlus calls the Trinity Engine "an advanced proprietary platform" that's designed to "intelligently unlock the full potential of your OnePlus device." Basically, the platform is supposed to handle more demanding scenarios, such as multitasking, heavy tasking, and long-term usage. It does this, OnePlus says, through CPU vitalization, RAM vitalization, and ROM vitalization.
To get into the nitty gritty, the brand describes CPU vitalization as "an industry-leading system-level computing power scheduling technology," which tries to find the best balance between your OnePlus phone's performance and power consumption.  
Next comes RAM vitalization — initially introduced on the OnePlus 11 with OxygenOS 13 — which is designed to improve memory performance. OnePlus notes that the memory performance technology was "upgraded on OxygenOS 14 to deliver a 10% improvement in smoothness. The brand promises that this will allow frequently used apps to remain in the background for 72 hours.
Finally, Trinity Engine's ROM vitalization addresses issues with your OnePlus device's performance degradation stemming from long-term use. The company says it does this "by incorporating techniques such as efficient compression algorithms, file defragmentation, and memory acceleration," adding that this would result in faster and smoother experiences after 48 months of typical use.
The update certainly sounds high-tech and loaded with buzzwords like "Trinity Engine," likely as a means to market the upgrade and generate enthusiasm among enthusiasts. And the brand does claim that the upgrade will provide your OnePlus device with "enhanced performance, extended battery life, and long-term smooth experience."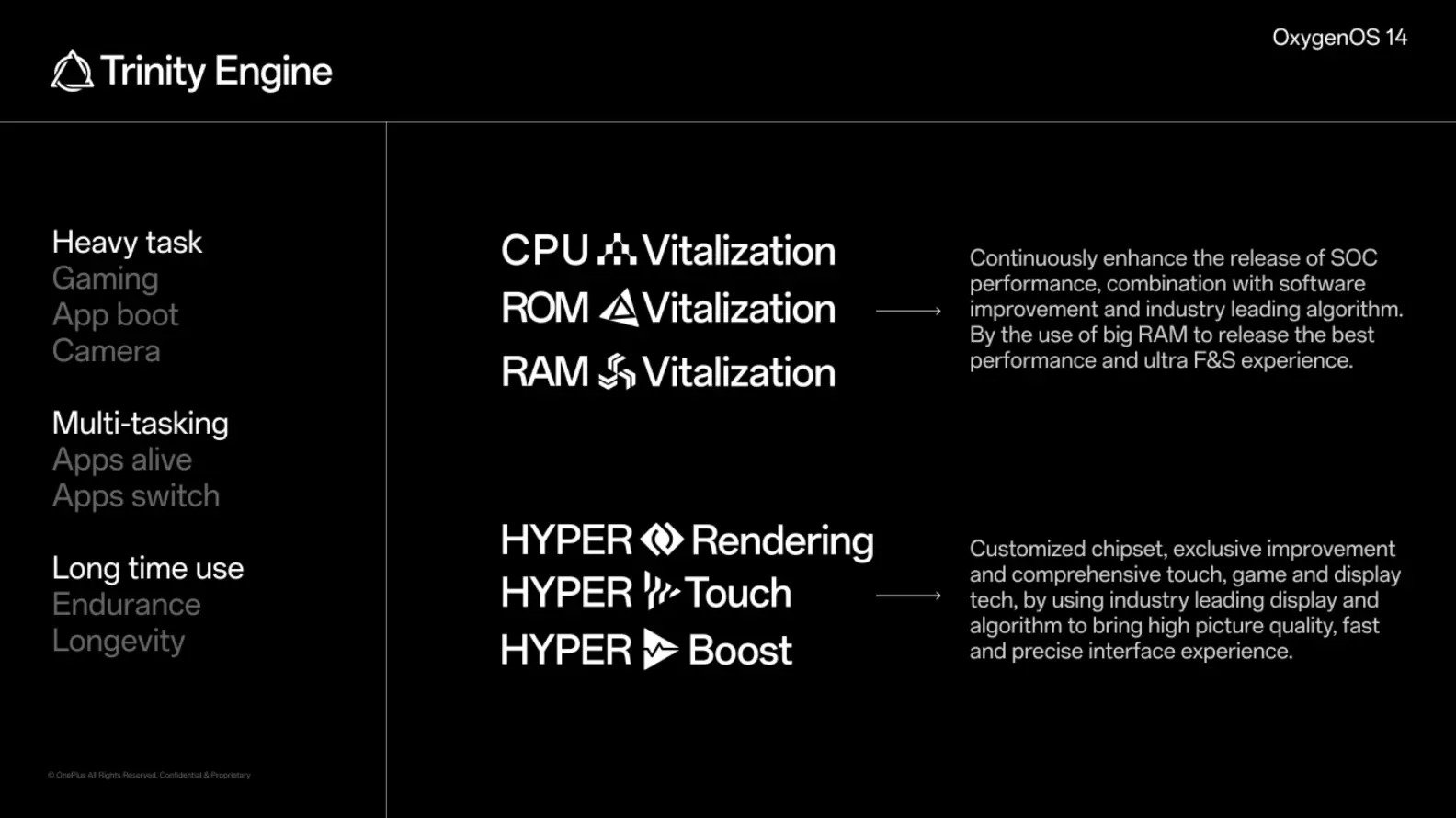 Outside of The Matrix-like Trinity Engine, OOS 14 also brings "more immersive and smoother" mobile gaming experiences — an update accomplished through "HyperRendering," a graphics optimization algorithm. OnePlus also highlights "HyperTouch," which enables better touch experiences when gaming, and "HyperBoost," incorporating AI to improve power consumption and — somehow — heat dissipation.  
OnePlus also notes that the upgrade contains a slew of updated functions. This includes the "File dock," which can hold text, images, videos, or links to consolidate them into Notes for content sharing. Similarly, the Notes feature has been tweaked with new fonts, styles, and colors for better categorization. 
The update further brings some fancy redesign updates to the operating system's aquamorphic design, as well as some new ringtones, sounds, and something called the "Go Green AOD," which allows users to integrate their carbon footprint.  
Lastly, OnePlus revealed that it expects to push the stable OxygenOS 14 update in November, starting with the OnePlus 11. Meanwhile, the company published an official timeline of the beta release while announcing the second Open Beta for the OnePlus 11 in the U.S. and India.